Talking the beat to cover what matters to you as an LEO. Join deputy chief Jim Dudley (ret.) every weekly as he sits down with law enforcement leaders and criminal justice experts to discuss strategy, challenges and trends in policing.
Episodes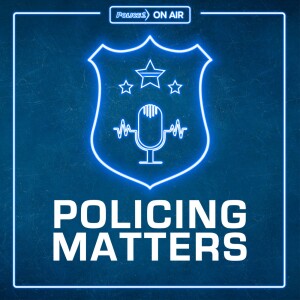 Thursday Sep 01, 2022
Thursday Sep 01, 2022
Law enforcement officers are tasked with a difficult mission that, different from so many other professions, causes them to be exposed to the risk of trauma, injury, or even death. Often, the public is unaware of acts of selflessness, courage, resilience and heroism by those who dedicate their lives to protecting and serving their communities. 
In this episode of Policing Matters, host Jim Dudley speaks with Donna Brown, a 26-year veteran of the Tallahassee Police Department in Florida who since her retirement, has dedicated herself to chronicling acts of officer heroism. Donna is the author of the Behind and Beyond the Badge series, which helps drive negative conversations around policing toward a positive outlook on law enforcement. Volume I was published in 2017 and won two gold medals in the Florida Authors and Publishers (FAPA) International book awards contest.
Donna Brown graduated from Florida State University with a bachelor of science in criminology in 1979. A few months later, she was hired by the Tallahassee Police Department, one of only five women on the force at the time. Her assignments were patrol officer, field training officer, training unit, patrol sergeant, FTO sergeant, detective bureau where she supervised the burglary/financial crimes unit, sex crimes unit, victim advocate unit and 10 years supervising the homicide unit. Sgt. Donna Brown retired after 26 years of service.
This episode of the Policing Matters Podcast is sponsored by Polco. Polco's National Law Enforcement Survey provides a comprehensive, accurate and representative picture of resident opinions related to police services. Compare your results with other agencies around the nation. Align your priorities with community sentiment, build trust, and improve safety services. Visit info.polco.us to learn more.