Talking the beat to cover what matters to you as an LEO. Join deputy chief Jim Dudley (ret.) every weekly as he sits down with law enforcement leaders and criminal justice experts to discuss strategy, challenges and trends in policing.
Episodes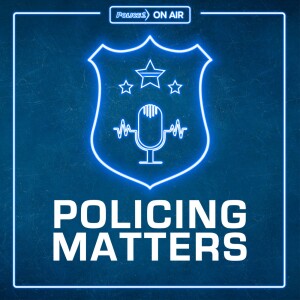 Thursday Dec 08, 2022
Thursday Dec 08, 2022
While the majority of police-civilian interactions resolve peacefully, a small number of situations end with use of force as police respond to subject resistance.
In this episode of Policing Matters, host Jim Dudley speaks with Dr. Eric Piza about his analysis of body-worn video to determine the factors that contribute to whether or not force is used during a police-civilian interaction.
Dr. Piza is a professor of criminology and criminal justice and director of crime analysis initiatives at Northeastern University. He served as the GIS Specialist for the Newark (New Jersey) Police Department where he was responsible for day-to-day crime analysis and program evaluation activities of the agency. A summary of his latest study, "Situational factors and police use of force across micro-time intervals: A video systematic social observation and panel regression analysis," can be found here.
Connect with and learn more about Dr. Piza's research here.
This episode of Policing Matters is sponsored by Utility. Utility provides a universe of intuitive solutions for effectively capturing, analyzing, managing, and sharing video evidence. Technologies include a variety of cameras, sensors, and devices, as well as situational awareness software solutions for law enforcement, first responders, transportation agencies, and utility providers. To learn more about Utility and its technology solutions, visit utility.com.